Now Recruiting for AmeriCorps*VISTA Positions!
Make a Difference!
AmeriCorps VISTA is a national program in which volunteers apply their skills in low-income communities, designing anti-poverty programs that will continue after they complete their service.
VISTA stands for Volunteers in Service to America and is part of the AmeriCorps national network of service programs.
The Texas Campus Compact VISTA program is part of the proposal to regionalize the State Campus Compact structure. It is based on a mutual interest in supporting service focused on anti-poverty measures at the more than 36 colleges and universities in our state membership.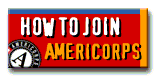 ---
---
© Texas Tech University, Lubbock, Texas
All Rights Reserved
Maintained by: Student Affairs Webmaster